So far in this adventure of my second act, I've kept a wall of separation between my blog and my political views. But it turns out, there's a presidential election coming up in four weeks and before we head to the polls, I wanted to actually do some research into both candidates to better understand their records and proposals for Americans with disabilities. Some might say I am biased, and to be honest, of course I am. But while I will admit that I am biased toward one candidate over another, it is entirely due to their positions on policy and their approach to leadership, which I find to be wholly important for this particular office.
While I've already picked my candidate for reasons mostly unrelated to disability (as we know, I am able to live my life in a way consistent with most physically typical people), a goal of my blog is to explore the differences between us all and encourage embracing those who have different backgrounds, struggles, and viewpoints. It seems that ignoring the upcoming election and specifically its impact on those with disabilities (many that are more severe than my own) would be abandoning at least a part of that mission, so if you care to read on, I present to you: The Policy Piece.
As with most political topics, I think studying the candidates can ultimately be boiled down into two prongs: What your record shows you have done about a cause, and what do you say you'll do about it if given the opportunity.
Candidates' Record on Disability
Democratic Candidate Joe Biden
Vice President Biden has a looooooooong career in politics, as we know. Some describe that experience an asset to his candidacy in that he's been around the block, knows his way around Washington, and already has working relationships with many of the world's leaders. Others cite all of those aspects as a problem. Either way, it shows that he does have a history when it comes to his support for people with disabilities. Without question, Biden has a record when it comes to disability rights; including his support of the Americans with Disabilities Act which just had its 30th anniversary.
Throughout his career, Biden has fought for the rights and opportunities of people with disabilities—working to pass anti-discrimination protections in the Americans with Disabilities Act, the Rehabilitation Act of 1973, the Fair Housing Amendments Act of 1988, the original Individuals with Disabilities Education Act in 1975, and the Affordable Care Act in 2010.

Biden Campaign Website
Besides his legislative record as a US Senator and then as Vice President, Biden also has quietly (often without much fanfare) supported others. While some might not consider it a "disability" in the traditional sense (heck, I don't even consider my own situation to be a disability), his guidance and encouragement of kids with stutters has recently gotten some attention. (See the references at the bottom of this post.) His private support for people regardless of their abilities has been observed for years.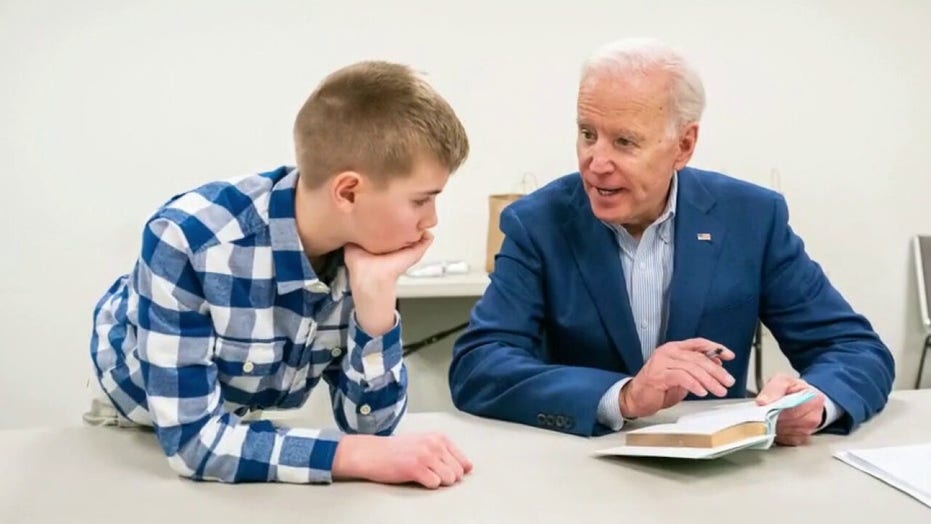 Republican Candidate Donald Trump
President Trump has only a four year political record. As far as I could find, there's been no speech advocating for acceptance of people with disabilities. (Unfortunately, the only reference that I can find when I search for a Trump speech on disability is his mocking of a disabled reported in 2015, which he says was making fun of his groveling, not the disability.)
His actions as chief executive also, intentionally or not, adversely affect millions of Americans with disabilities. It's said that up to 20% of Americans identify as having a disability, and while there is obviously a vast spectrum of disability that number is still huge. President Trump's attacks on the Affordable Care Act come without a plan to protect pre-existing conditions, something which most disabilities qualify as. The ACA is what gave many people with disabilities (along with cancer survivors and countless other Americans) their first security in retaining healthcare.
The president also regularly attacks the rights of people with disabilities in restricting their ability to obtain Medicaid and Social Security Disability Insurance (SSDI). By defunding these programs and restricting access, there are now more people with severe disabilities who will have a harder time living at home. You see, many children with disabilities eventually become adults with disabilities and will always be under the care of others. This often comes at great cost to the family, usually with a parent or guardian needing to take time away from work to be the primary caretaker. This could, disappointingly, lead to more people (especially those with mental disabilities) being forced into institutions at greater cost and with less love.
Did you know that people with disabilities are twice as likely to be the victims of violent victimization? People with intellectual disabilities are also seven times more likely to be victims of sexual assault than those without disabilities. It's even higher for women with disabilities. That figure is chilling, and the Trump administration has been chipping away at Title IX protections making it harder for victims of sexual assault to make their case.
Candidates' Plans Impacting People with Disabilities
Democratic Candidate Joe Biden
Joe Biden lists his goals with disability advocacy and policy proposals right on his campaign website: https://joebiden.com/disabilities/
It's quite comprehensive, addressing issues we all (not just those with disabilities) will benefit from. Access to healthcare, ability to be paid fairly for work performed, economic security, and access to affordable housing, transportation, and assistive technologies are all issues affecting people with disabilities and they're all addressed right on Biden's website.
The Mighty, a great resource for people with disabilities, also sums up Biden's record and plan to protect people with disabilities quite nicely. (See the references at the bottom of this post.) Included are important topics such as guardianship, healthcare, fair housing, and even gun rights.
Republican Candidate Donald Trump
As of this writing, President Trump has not posted any campaign materials addressing how he will advocate for people with disabilities. I have been unable to find any reference to a plan in speech transcripts. Independent think-tanks have not reported on a plan. Third parties have only speculated what a second Trump term will do if he continues doing what he's done in his first term.
There is literally nothing to find about his plan for people with disabilities.
Conclusion
There are countless reasons people support each candidate. These days, nearly everyone is firmly planted in their camp and will not be changing their minds. But this is a big job. Far bigger than one person, of course, and the role impacts billions around the world. Among those, the 20% of Americans who identify as having a disability. I think a look with the new lens of adversity and diversity is valuable. Disability absolutely should be included in the rapidly growing awareness and adoption of DEIB programs across the country. Thanks for sticking with me!
References:
Biden Plan: https://joebiden.com/disabilities/
Biden encourages young man with stutter: https://apnews.com/article/30951d24b0dab8b9ced01704d8ee9f2c
Also: https://www.cnn.com/2020/02/05/politics/joe-biden-stutter/index.html
Also, too: https://www.foxnews.com/politics/brayden-harrington-joe-biden-dnc-speech
Biden's report card on platform supporting people with disabilities: https://themighty.com/2020/08/joe-biden-disability-plan/
Biden's plan to close the equal pay loophole: https://www.theatlantic.com/politics/archive/2020/08/2020-election-subminimum-wage-disabilities/615085/
Biden plans to address disability in America: https://www.huffpost.com/entry/joe-biden-disability-platform_n_5ecf1160c5b61b971d4e4699
Trump: <No campaign page for disability advocacy>
Proclamation for ADA #29: https://www.whitehouse.gov/presidential-actions/proclamation-anniversary-americans-disabilities-act-2019/
Trump attacking pre-existing conditions, SSDI, Medicaid, ability to work: https://www.americanprogress.org/issues/poverty/news/2017/03/08/427629/5-ways-president-trumps-agenda-disaster-people-disabilities/
Trump claims of fraud and misuse: https://www.npr.org/2020/02/12/805128915/examining-trump-administration-aims-to-change-disability-benefits
President Trump spurs new disability advocacy movement: https://time.com/5168472/disability-activism-trump/
Trump mocks disabled reporter: https://abcnews.go.com/Politics/donald-trump-making-fun-reporters-disability/story?id=35463888
Trump mocks disabled reporter: https://www.businessinsider.com/trump-appears-to-be-mocking-the-physical-condition-of-a-reporter-during-a-south-carolina-rally-2015-11
Intellectual disabilities seven times more likely to be sexually assaulted: https://www.npr.org/2018/01/08/570224090/the-sexual-assault-epidemic-no-one-talks-about
Trump dismantling Title IX: https://time.com/5836774/trump-new-title-ix-rules/
Republican assault on people with disabilities: https://thehill.com/opinion/civil-rights/511166-is-the-administration-looking-out-for-americans-living-with-disabilities
#CripTheVote